Boulder rock landscaping can really complete the look and feel of your property. It is an excellent companion to xeriscaping and can add depth and texture to your lawn. When combined with native plants and ground covers, you can create a space that looks lush and full. With our tips, you can safely build your ideal layered garden with boulder rocks.
Carefully Plan the Area
Before ordering your boulders, carefully assess the area first. You will want to design it so the boulder lays safely in that space and there is little risk of them tipping over and harming your plants or even others. You should plan to set your boulders partially into the ground. Dig a hole that is about the size and circumference of your boulders. The hold should be at least a few inches deep. They look more natural this way. We also recommend planning your boulder placement first as they will be both the background of your garden but can also act as the focal point with the correct placement.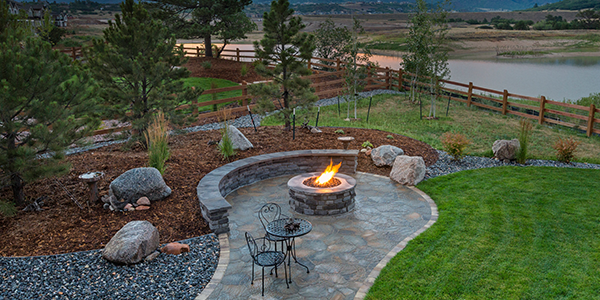 Layer Native Plants to Enhance Your Boulder Rock Landscape
You want to create interest and varying textures and heights around your boulders with an array of grasses, trees, and plants. By building the bed up, you can create an illusion of elevation. Because boulders hold the heat of the day, you may be able to grow plants that will benefit from radiated heat. We recommend adding trees to the boulder's side to create visual interest and grouping shade-tolerant plants around the boulder's base. You should also incorporate shrubs, low-growing plants like ground covers, and medium-height plants to add to its visual variety. Additionally, play with color and find plants that contrast the color of the boulders.
Landscape Lighting is Key to Create Shadow and Contrast
Boulders make terrific focal points for landscape lighting. Use different angles to create a different effect. The easiest landscape lighting to place in the backyard is solar lighting but low-voltage also works great. Try using the lighting to highlight single items in your garden and to also create a shadow between your plants and boulder to build depth. Place the lights at various angles and distances to avoid creating too harsh of a contrast.
If you are looking for high-quality boulders or lights, we would be happy to assist you. Visit Kurtz Bros., Inc. for more information or contact us to learn more!