Root cellars were the traditional location to store vegetables during the winter months. They were usually underground and were the perfect environment because they were naturally cooling, insulating, and humidifying. Most modern homes do not have a root cellar, but there are a few things you can do to harvest and store your vegetables for the winter.
Harvest Your Vegetables at Peak Maturity
Vegetables that are harvested at peak maturity do much better in storage than vegetables picked over or under-ripe. You will want to delay harvesting for as long as possible and harvest the product carefully to not bruise them. If any of the vegetables are accidentally bruised during harvesting, eat those first because they will degrade quickly. The same goes for any vegetables that weren't able to mature or are overripe. You can create a soup or chop and freeze them if you have an abundance of vegetables that need to be cooked sooner rather than later.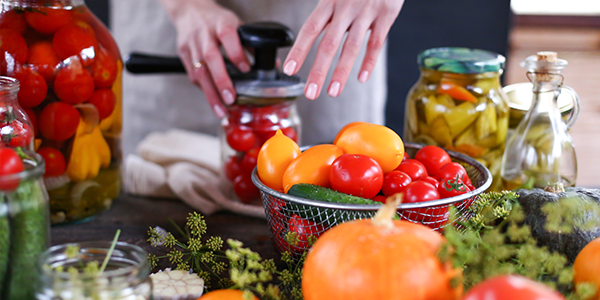 Select the Right Vegetables to Store in the Winter
Vegetables like root vegetables can be stored whole without freezing during the winter and last in cool, dry environments. While others like leafy greens or fruits like peppers and tomatoes need to be used within a few days of harvesting. We recommend batch cooking those vegetables in a sauce or multipurpose stew and freezing it. They can also be frozen whole to be used throughout the winter. And if you don't have a root cellar, the fridge is also an ideal space for root vegetables. You can also pickle produce like cucumbers, carrots, onions, garlic, and more!
Alternative Storage Options Beyond Refrigerators
Any room or pantry can store root vegetables properly during the wintertime. The key is finding a space that is cool, dry, dark, well-ventilated to prevent rotting. As a result, any room that meets those criteria can be used to store root vegetables and alliums like onion and garlic. We recommend using storage containers that should be kept off the ground using blocks or pallets. When storing, don't wash your produce of dirt to lessen the humidity. Instead, brush off any loose soil and shear off the foliage just above the crown.
Discover More With Kurtz Bros., Inc
We are always here to help! Visit one of our stores to chat with one of our friendly associates. We have an assortment of straw, wood chips, compost, and more. Contact us so we can assist you!