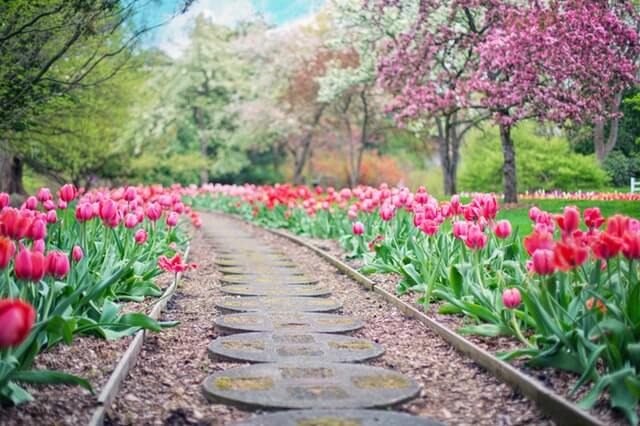 Does your front yard or backyard seem boring and bland? Are you tired of the same green and brown hues? Maybe it's time to freshen up the look. Discover ways to add instant color to brighten up your yard!
Repaint Outdoor Furniture to Brighten Up Your Yard
Is your yard looking drab because of old, tired furniture? Maybe all it needs is a fresh coat of paint! Shop for durable outdoor paints and go to town on those outdoor chairs, accent tables, or benches. Even the mailbox might need a little sprucing up.
Whether you repaint your porch swing and your mailbox or the entire set of furniture from your patio, you'll find that the fresh color works wonders for your outdoor space.
Add Instant Color with an Outdoor Rug
If you don't already have one, consider buying an outdoor rug. These rugs often come in vivid hues and can really add to the eye appeal of your patio or deck. If you're repainting the outdoor furniture as well, be sure to select a rug that includes or complements the paint color you're planning to use.
Buy Some Fresh, Flowering Plants
Maybe you don't have time to plant seeds, wait for them to sprout, and wait even longer for colorful blooms to show up. Instead, buy plants that are already flowering from a local nursery. You can repot them in larger urns or bowls and place them around your yard, or add fresh soil to existing beds and insert the new flowers.
Select Attractive Pots and Urns for Instant Color
If you do incorporate some new plants in containers, choose urns and pots that add some color. Keep in mind that decorating your yard is like decorating a room in your home— you'll want to stick with a couple of coordinating colors.
Remember, your outdoor space already has shades of green, brown, and blue, so a bright accent color like orange, yellow, pink, red, or purple will be especially eye-catching.
Use Decorative Rocks to Brighten Up Your Yard
Boosting color in your landscape can be done in subtle ways, too. Maybe you just need some different textures, shapes, and hues to add interest to your outdoor space. Investigate the variety of sizes and colors of decorative rocks available from Kurtz Bros., Inc., and then include some of these rocks as borders, pathways, or focal points.
Paint the Wall or the Fence
Do you have a wall or fence on your property? With time, these boundary features can become worn down and drab-looking. A few repairs and some new paint keeps them looking fresh and sharp; plus, you'll find that the extra color improves your entire yard!
Before you pick up a paintbrush, though, you may want to check with your neighbors and with the homeowners' association to ensure that your chosen color is agreeable to everyone.
There are plenty of additional ways to add instant color to brighten up your yard— laying down a variety of pavers, adding a tiled mosaic, purchasing an art piece, or commissioning a mural. For more ideas on sprucing up your outdoor space, contact Kurtz Bros., Inc. and our lawn care experts will be happy to help with all your landscaping needs.