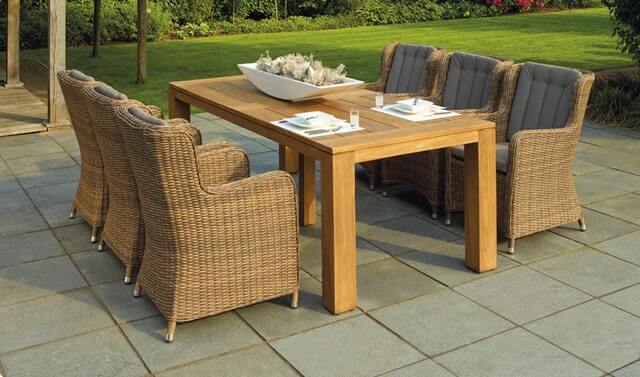 When you're designing a patio, you don't have to worry about walls or ceilings or following any particular form. You can really have any shape and size that you like, as long as it fits within the boundaries of your property. However, certain shapes and sizes lend themselves better to entertaining and efficient use of your land. Explore common patio shapes and how they affect your yard layout.
Rectangular Patio
Possibly the most common patio shape, the rectangular form echoes the shape of your house and its rooms. It creates an extension of your living space and provides a blank canvas that you can furnish and decorate as needed.
A rectangular patio is an easy DIY with concrete, bricks, or paving stones. If you're covering a larger area, consider separating the patio into "rooms" using different pavers or patterns. Use these areas for different functions and features, like fire pits, grills, tables and chairs, outdoor sofas, or fountains.
Since it's narrower than it is long, a rectangular patio helps preserve a larger section of your yard. If you're interested in keeping a sizable grassy space, design a rectangular patio that leaves a significant swath of the yard untouched.
Square Patio
Like the rectangular patio, a square patio is easy to install yourself; but it projects further into your yard than a rectangular patio of similar dimensions would. Large square patios are perfect for holding rectangular or round tables that seat plenty of guests.
You can also use a square patio to set off a feature like a cute bistro table, a fountain, or a hot tub. Owners with limited yard space often install a small square patio, leaving as much grass as possible undisturbed.
Round Patios
Round patios feature either a full circle or a half-circle design. Their shape emphasizes unity and togetherness. Sometimes, they encircle a focal point like a fire pit, a round table, or a fountain. Because of their rounded edges, it's a little harder to set them up as outdoor rooms; but their curved lines do blend better with the landscape.
A round patio works best in a large yard that has ample grassy space, or in a yard that joins other properties seamlessly, without a fence line. If you try to squeeze a circle patio into a small space, you'll end up with odd strips of grass at the edges of the yard— strips that are hard to maintain and not very usable.
Of course, you can always opt for a free-form patio— a design and shape all your own. Just make sure that the scale of the patio is appropriate for your house and that you have a plan for using the new outdoor space. Whether you need supplies for the patio or advice regarding its design, contact Kurtz Bros., Inc. anytime, and we'll be happy to help.