An outdoor firepit is more than just a source of warmth. It's a gathering place that naturally draws people in and around the crackling flames.
Think of it as an outdoor extension of your living room—a hub where friends and family can congregate and make special memories.
But how can you get the most out of a firepit?
Here are 5 fun fire pit ideas you can use to crank up the heat.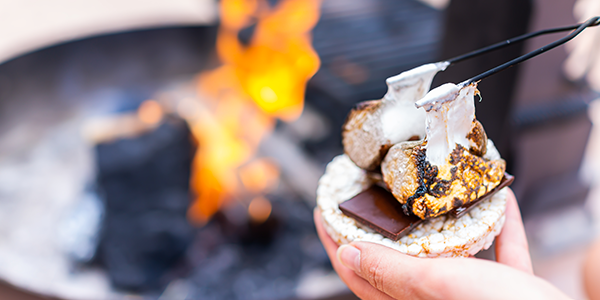 #1 Roast S'Mores
We should all be grateful to the mad genius who decided to use a lit marshmallow as the jelly in a graham cracker and chocolate sandwich.
Truly, is there any treat that can compare to these gooey delicious morsels?
Whether you're a slow and steady, golden marshmallow toaster or prefer the total-char then blow-out-the-flames method, roasting S'Mores might be the ultimate fireside pastime. It's a nostalgic activity that likely brings to mind fantastic childhood memories of spending time outdoors.
If you prefer to keep it simple, you can stick with the three staple ingredients. Or, if you feel like going a little crazy, you could look up homemade recipes for marshmallows or add other ingredients like peanut butter or fruit.
#2 Swap Scary Stories
There's no better atmosphere for a scary story than a firepit gathering.
When the storyteller is backlit by flickering flames and long shadows and their words are underscored by snapping, crackling embers, it's easy to conjure up images of ghosts, ghouls, and gremlins.
Storytelling around a fire is a primal experience—one that's been done for hundreds of thousands of years. Huddled close together with friends and family, you can spin a spine-chilling tale that hits just right.
#3 Grab Your Guitar
Are you a musician? Or, can you at least play Wonderwall?
Perfect. Music and firepits go hand in hand. There are few sing-a-long settings better than a starry night lit only by a campfire. It's an intimate way to gather and enjoy one another's company.
If you want the perfect setlist, consider learning (or bringing sheet music for) the following songs:
American Pie

Lean on Me

Stand by Me

Somewhere Over the Rainbow

Country Roads

Wagon Wheel

Free Fallin'
#4 A Fireside Dinner and Chat
If you plan on hosting friends or family for dinner, ditch the dining table, light a fire, and gather 'round the flames.
A firepit is a perfect backdrop for fantastic food, drinks, and conversation.
A word of advice: Because your guests will likely be sitting in chairs or on benches, with a plate in their laps, focus on cooking fireside foods that can be eaten with your hands and not utensils.
Looking for some conversation starters?
Questions you can propose to the group include:
What are your highs and lows (of the day, week, or year)?

What are you most proud of?

What are you excited for?

What artists had the most influence on you?

Do you believe in free will or determinism?

Are hotdogs sandwiches?

Is water wet?

What was the last good book you read?

What are you grateful for?
#5 Play Games
Outside with little to no distractions, firepits make for an ideal setting for a group game. You probably have your own favorites, but popular games you should give a try include:
Mafia

I Went To The Market

Telephone

20 Questions

Two Truths and a Lie

The Winking Assassin
The game you play doesn't matter all that much. It's more about spending quality fire time with the people you love.
Curate a Fireside Sanctuary With Kurtz Bros., Inc.
All of these activities have one element in common—they take place around a firepit.
But what if you don't have one yet?
That's an easy fix. At Kurtz Bros., we sell everything you need to build the perfect firepit. Whether you want a pre-built firepit kit or prefer to make a pit from scratch, we have the materials and the firewood you need to turn your backyard into that perfect gathering place.
Visit us today to kindle your fire.