Home remodels are a golden opportunity to improve and update the existing design and function of a home.
Even if you don't plan to sell anytime soon, modernizing your house can dramatically increase the value of your home, especially if you invest in the right outdoor features. Doing so can improve the home's curb appeal, and thus, its estimated home value.
But what are the top commercial features you should add to your home's yard and exterior?
Here are five features you should consider as recommended by the National Association of Realtors 2018 Remodeling Impact Report.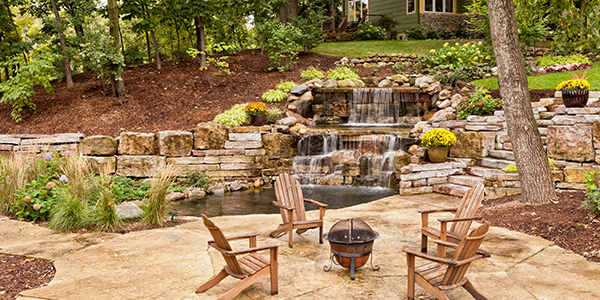 #1 Routine Lawn Care
When the time comes to sell a home, first impressions are everything. They can make or break a sale. And one of the very first features a prospective homebuyer will see as they approach the home is the front lawn.
When grass is overgrown and weeds abound, it can lend an air of abandonment to a property. But if the lawn is manicured and neatly kept, it makes it much easier for the interested party to envision themselves living in the home.
Another study by the National Association of Realtors discovered that taking care of your home's lawn will provide the most ROI of any superficial project you could undertake. According to researchers: "Seeding lawn produces the largest financial windfall, recovering 417 percent of the project cost at resale."
Along those lines, performing routine maintenance and upkeep of the landscape so that it looks more like a yard and less like a jungle will further increase resale value.
#2 Landscape Upgrade
Has your outdoor space lost the aesthetic impact it once commanded?
Just like your home, your front and back yards can also be modified for improved outdoor living.
With the help of a landscape designer, you could transform an underutilized space into a visually appealing outdoor feature that naturally invites people in, such as a backyard fire pit or a garden.
In addition to increasing curb appeal, a landscape upgrade can:
Reduce ongoing maintenance requirements

Better the use of the space

Add beauty

Increase entertainment appeal

Make the yard more environmentally friendly
#3 Hardscape Improvements
Hardscaping is an essential part of creating the ultimate outdoor space and experience. While natural vegetation typically plays a central role in landscape design, hardscaping provides structure and functionality to these outdoor spaces.
Common elements to consider for your hardscaping include:
Driveways

Paved walkways

Patios

Porches

Stairs

Walls
Your yard needs these inanimate elements before you can begin to add softscaping features. Furthermore, proper hardscaping design plays a crucial role in water irrigation, soil erosion prevention, and proper drainage.
#4 Outdoor Patio and Seating Area
Investments in yard beautification and utility will be for naught if there isn't a place to enjoy the outdoor space.
Many prospective homebuyers want an outdoor area where they can have a delicious meal, relax as they watch the kids play, or host company. Installing patios, decks, and other seating arrangements can instantly make an outdoor living space more inviting.
Having space such as this encourages everyone to spend more time outside, in nature.
#5 Outdoor Lighting
Outdoor lighting can add elements of class, coziness, and whimsy to your front and back yard. It enhances the natural beauty of the home, highlights features, illuminates pathways, increases security, and allows you to spend more time outside. Lighting elements that can improve curb appeal include:
String lights

Garden lights

Spotlights

Flood lights

Step lights

Bollard lights
Improve Your Home with Kurtz Bros., Inc.
You don't have to invest hundreds of thousands of dollars to improve your outdoor spaces. Making small improvements and maintaining the landscape can dramatically increase the yard's appeal and allure.
If you want to turn your backyard dreams into reality, Kurtz Bros., Inc. can help with that. Whether you need supplies for your landscape, hardscape, or softscape design, we have the materials you need to transform any outdoor space into your personal oasis.
Shop our products today!