Lava rocks can add a nice splash of color to your garden and also provide the benefits of mulch. They can add a refreshing variety of texture to your garden while their porous properties can assist in water retention. Red and black lava rocks can be a permanent mulching solution that you should consider adding to your landscape this year.
What are Red and Black Lava Rocks?
After a volcano has erupted, lava rocks are formed from the lava that has cooled. Due to the abundance of air bubbles that pop as the lava dries, lava rocks are porous and lightweight. They are inorganic and can handle a variety of temperatures and weather without breaking down. Moreover, they comprise of vibrant colors such as red and black. The colors are due to the minerals present in the rock and how much the minerals have oxidized. These minerals include magnesium, calcium, and iron.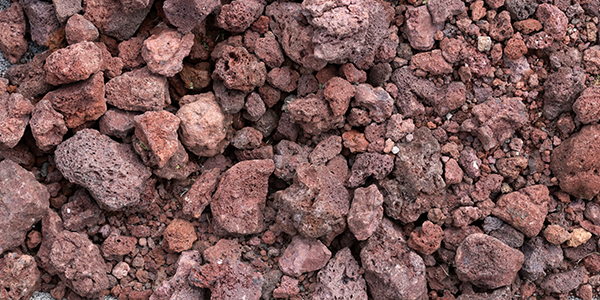 Lava Rock Landscape Uses
Unlike traditional wood mulch, lava rock is durable and can be a long-term investment in your garden. When used as mulch, it reduces the likelihood of weeds and pests. It also maintains soil moisture levels because water can easily filter through. If you practice xeriscaping or have a sloped garden, red and black lava rocks are a beneficial addition to your garden because they are an effective tool in preventing soil erosion. Additionally, installing lava rock is as simple as installing wood mulch. Our detailed mulch installation guide can assist you in accurately prepping, planning, and layering mulch.
Additional Uses
Lava rocks are frequently used as accent colors to demarcate pavers or beds, but another popular use for them is in outdoor fire pits. Red and black lava rocks are natural-looking substitutes for fire pit glass. An added benefit to using lava rocks is that they retain their color throughout time and help protect your natural gas or propane fire pits from heat damage.
We know that lava rocks can be more of an upfront cost than traditional mulch, but the value of its longevity is worthwhile. Use our mulch calculator to gauge the right amount of lava rock for your landscape or contact us so we can help! Kurtz Bros., Inc. carries an assortment of other mulches, soils, and fertilizers to help you create a garden you can be proud of, so shop now!