Several homes today have small outdoor spaces. We often are limited to balconies, small concrete patios, or just a communal side yard. Despite their size, landscaping a small yard is possible and can yield amazing results. Learn some tips so you can improve your small outdoor space and get growing!
Take Advantage of Vertical Space
Layering is key in landscaping a small yard or balcony. You can achieve this by taking advantage of your vertical space by using hanging baskets, felt plant pockets, trellises, or by creating your own vertical planter. There are several plants that you can incorporate that grow well vertically. Vining varieties would make an excellent addition to a small space and will grow well in a container and a trellis. Consider adding native vining plants such as woodbine or vegetable-producing plants such as pole beans, nasturtium, or climbing tomatoes. For hanging baskets, strawberries, eggplants or small peppers are ideal. You can also choose to concentrate on native pollinators like black-eyed susans or bee balm.
Landscape Small Yards with Lawn Substitutes
Although a lawn is tempting to keep, you might want to reduce it as much as possible or substitute it all together with a low-maintenance ground cover, mulch, gravel, or turf. A small space can easily look cluttered and replacing grass could minimize the clutters while also decreasing maintenance and giving you time to focus on plants you want to cultivate. You can apply the principles of xeriscaping to achieve this. Mulch and gravel can be easily cleaned or replaced to give your yard looking refreshed. Additionally, by incorporating a native ground cover, you can avoid mowing while also adding more natural green to your space. For example, the Virginia creeper is a ground cover variety that adds dimension and color to your yard while also attracting bees.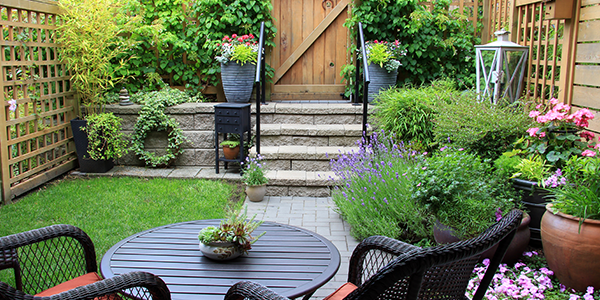 Use Containers and Add Lighting
Containers like window boxes allow you to maximize your space and can be a beautiful addition. You can use window boxes in a variety of windows in your homes and on any floor if you are apartment. Just secure them carefully and take account of how much sun that window receives when deciding on the plants to add. Use a variety of containers to grow vegetable or decorative outdoor plants. Just use a rich soil and compost blend in your containers. For example, fabric grow-bags can grow of variety of plants including potatoes. Also, you can use traditional pots or nontraditional containers to add color and variety to your space and grow more plants.
Additionally, much like the rules of interior decorating, adding and layering lighting can enhance a small outdoor yard. You can create the illusion of a large space by giving your yard more dimension with light and shadow. LED lights can be placed in an array of heights and can truly open up your space.
Consider Dwarf Varieties
A small yard or balcony could be a great space for trees including fruiting trees. When deciding what trees to add, be sure to look for dwarf trees so they can stay proportionate to your space. Just be sure to check the weight limit of your balcony when designing it. Besides yielding fruit, dwarf fruit trees also add visual texture and color. You can further enhance this by using decorative stones or evergreen plants.
If you are struggling to make the most of our small yard or balcony, we have the tools to help you maximize your space including nutrient-rich soil for your container garden, mulch, gravel, LED lights, and more! Contact us and we would be happy to assist you.