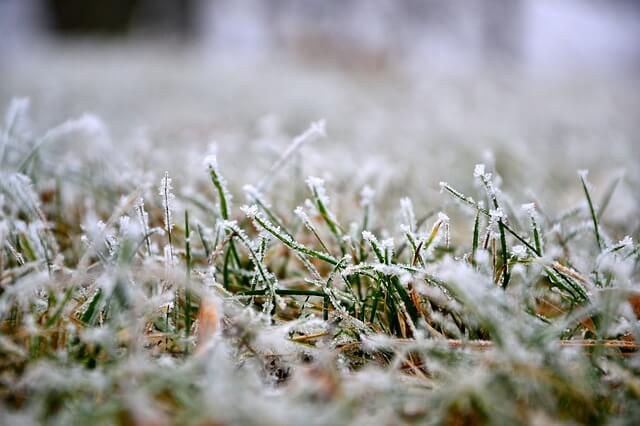 Whether your lawn is a gorgeous stretch of perfect grass or a work in progress, you're probably nervous about how it will fare during the winter. Winter weather can be hard on a carefully manicured lawn, so it's important to take precautions before the really cold days set in. Find out more about winter lawn care prep you can start now to keep your backyard and front yard healthy throughout the coldest months of the year.
Scale Back on the Mowing
If you mow your lawn yourself, cut back on how often you do this chore. If you hire landscapers to handle it, be sure they understand that they need to mow less often as the weather grows chillier. When you do mow, don't cut the grass too short. It needs some length as it goes dormant, to protect the root system during winter.
Turn Leaves into Mulch
Are your beautiful deciduous trees keeping you busy? Rake up all those colorful leaves and use them as an extra layer of mulch for flowerbeds. Pile them around bushes and trees for added root insulation and moisture retention as well.
Slow the Irrigation Schedule
Do you have a sprinkler system? Adjust the timer so it waters the lawn and flowerbeds less often. As the weather grows cooler, go ahead and turn the entire system off for the winter. Otherwise, you might accidentally freeze your lawn stiff if temperatures drop right after the irrigation system has showered the grass.
Boost Your Compost Content
Good, rich compost is like gold for gardeners and landscapers. If you have a compost bin or pile, be sure to include some of those nice brown leaves. The leaves insulate the compost and keep it from getting too moist.
If you don't have compost of your own, order it online from Kurtz Bros. and enrich your garden and lawn with it next spring.
Eliminate Stagnant Water
Stroll through your backyard, front yard, and side yards. Do you notice any water pooled in ditches, holes, or low areas? Those stagnant puddles are ideal breeding grounds for mosquitoes. If you don't want to be plagued by a fall swarm of these annoying insects, take precautions to eliminate that standing water.
Add soil or rocks to fill in those spaces. If there are flowerpots, wading pools, urns, or rain barrels that contain standing water, empty those as well.
Fertilize a Cool-Season Lawn
Do you have cool-season grasses like Kentucky bluegrass, fescue, or perennial rye grass? Fall is the best time to fertilize this type of grass. Do a soil test first to determine what type of fertilizer will best serve your lawn.
It's time to start getting your lawn ready for winter! Don't forget to visit Kurtz Bros., Inc. to order everything you need for those winter lawn care chores.