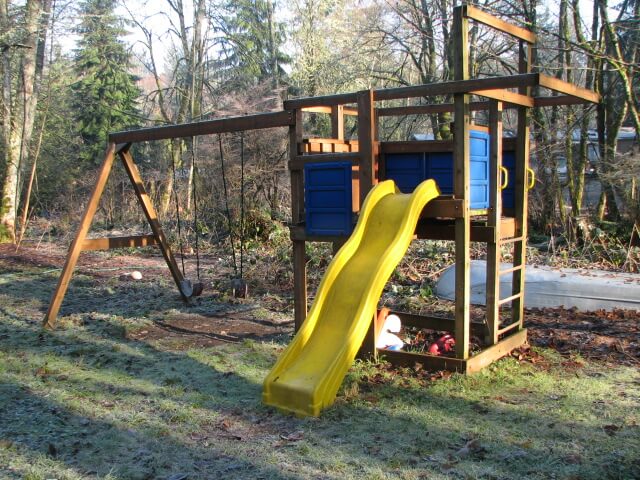 Whether your kids have been begging you all summer and you're finally giving in or
you're simply trying to surprise them, building a backyard playground is a big,
but definitely manageable undertaking. It might seem overwhelming, but by
taking it one step at a time you can get through it. Keep reading for tips on
how to plan and maintain a backyard playground.
Determine Your Budget
The first step in planning your backyard playground is to determine your budget.
Projects can quickly spiral out of control so it's important to have a number
that you're comfortable within your head and keep that in mind when making your
decisions. An extra slide or swing might seem like a great idea, but if it puts
you over the budget you should probably pass.

Define the Space
The next step when you're building a backyard playground is to define the space. Go
out into your backyard and map out the area you would like to build the
playground. During this step, it is essential to look around and check for
obstacles like fences, low hanging trees, porches, or walkways. Ensure there's room for your lawnmower to get around all sides of the playground—unless you're planning to hit everything with a weed whacker—and that if you add swings they're not going to swing right into a hedge or bush.
Select the Playground Equipment
Once you know the size you're working with you can start to select the playground
equipment. Certain elements like seesaws, slides, and swings need a certain
amount of space so be sure to choose equipment that fits in your mapped out
area entirely. This is also a good time to involve your kids and let them have
a say in what you choose. Do they want special features like a tire swing,
climbing wall, or teeter-totter? It's better to know what they want upfront so
everyone is happy after you put in all the hard work.

Homemade or Pre-Constructed?
The next step is to consider whether you are going to use a pre-constructed
playground or build your own. There are pros and cons to both schools of
thought. For pre-constructed playgrounds, they are much easier to install, but
they typically cost much more. Alternatively, homemade playgrounds are cheaper
but they take a lot more sweat equity to erect. However, homemade backyard
playgrounds are also easier to customize so you if you have an odd-sized space,
you might want to go with homemade.
Consider Safety Features
When building a backyard playground, you also want to make sure that it's a safe
place for your children. That means choosing a playground with solid beam
construction that won't crack or sag after exposure and sturdy hardware. You
also want to choose ouch-less features like textured grips on ladders and
handles, snag-free recessed bolts, double wall reinforced slides and
splinter-free ropes that are able to resist UV and weather damage. By taking
safety into account upfront you can rest easy while your kids are enjoying
their new backyard playground.
Choose a Base
After you have your playground equipment selected and a plan in place, the next step
is to pick your base. There are a few different options to choose from. You can
build the playset right on the grass, though this will mean a lot of weed
whacking and possibly re-seeding bare patches on the lawn. Another choice is to
put three to four inches of mulch down all around the playground. This is easier to maintain than grass and is relatively cheap, but can lead to splinters and scrapes if your child falls. Another option is rubber mulch, or you can purchase a weather-proof rubber mat that goes underneath the playground for increased safety.
Have Materials Delivered & Ensure You Have Necessary Tools
Once you have your plan laid out and determined what will serve as the base for your
backyard playground, it's time to start sourcing your materials. You will need
to order the lumber and hardware from your local hardware store or lumber
supplies, or call the company that makes the homemade playground you want and
place the order. In addition, you will also need to order the material for the
base. If you are going to use mulch or rubber mulch, consider trying to get a
discounted bulk price from your local landscape company. You will also need the
tools to build/install your playground, like shovels, gloves, and clippers to
trim back any hedges or low-hanging tree branches. Once you have everything you
need, start building!
Prepare for Regular Maintenance on Your Backyard Playground
Once you have a backyard playground, you need to properly maintain it. If you place
the playground right on the grass, you'll need to re-seed worn patches in the
lawn during spring and fall, and possibly use fertilizer to encourage strong
growth even when kids are running amuck. Putting the backyard playground over
grass will also mean weed whacking around the areas the mower won't reach so
you won't have to worry about ticks in the long grass. You may also need to add
a fresh layer of mulch in the spring if that's what you're utilizing as a base.
Additionally, you will also need to seal the wood every year to prolong the life
of your backyard playground. You should also go around twice a year and check
to make sure all of the hardware is properly tightened.
Contact Kurtz Bros, Inc. Today for Your Playground Needs!
If you are planning a backyard playground this project, Kurtz Bros., Inc. can
help! We have a plethora of landscaping supplies and tools that will help you get the job done. From mulch to fill in the playground area to shovels, weed tarp, and
more, you can turn to Kurtz Bros., Inc. for your background playground needs!
Our experts are also knowledgeable at keeping grass and weeds at bay or
reseeding lawns that are being torn up from frantic play. Contact us today to
learn more!