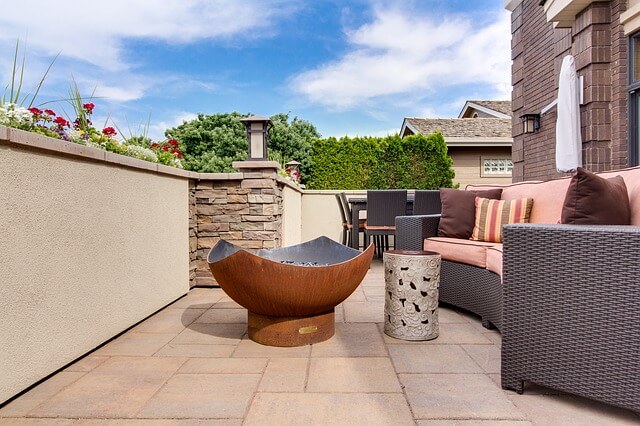 Just as the styles on runways change from year to year, the trends in outdoor living and landscaping shift periodically. In the new year, several fresh ideas will move front and center for landscapers and homeowners. Find out which outdoor living space trends for 2019 you should be watching, and decide which ones might suit your home.
Vintage Furniture
Rustic, vintage pieces remain in high demand for outdoor spaces. Look for sturdy benches, tables, and chairs that have the delightfully weathered look while still maintaining structural integrity. Avoid repainting the pieces, in order to let the vintage patina shine.
Green Fences
Instead of building fences, why not grow them? Hedges, bushes, trees, and plants are preferable as privacy walls and property dividers. If you want to define your outdoor living space, a green, growing hedge or some tall flowering bushes will do the job, enhancing the area with a natural look.
Bright Accent Colors
When it comes to outdoor entertainment, the star of the show should always be the landscape. Trees, well-manicured grass, carefully curated local plants— it's all worth showing off. However, a strategically selected accent color or two can really make your landscape pop. Try hues like orange, bright yellow, or red as accents, and incorporate one of those colors into the occasional chair cushion, flower pot, or outdoor accessory.
Low-Maintenance Plants
With the hectic pace of modern life, most people struggle to find time to care for their landscapes. In 2019, you'll see an increasing number of low-maintenance, drought-tolerant plants popping up in your neighbors' yards and flowerbeds. These plants don't require frequent watering, so they are less time-consuming to care for, and they also reduce water usage for the home and property.
Stormwater Management
As homeowners become more conscious of their impact on local eco-systems, they're paying more attention to the flow and use of rainwater. Note any areas of your yard that tend to collect standing water, or spaces that prevent water from soaking into the earth effectively. With a few changes, you can implement a plan that maximizes rainwater benefit and minimizes waste. The experts at Kurtz Bros., Inc. can advise you on how to get started.
Beautiful Edibles
With the renewed attention to practicality and waste reduction, many homeowners are opting for plants that are edible as well as decorative. Many lettuces, radishes, carrots, and herbs have lovely foliage in addition to provide organic bounty for your table. Try the urban farming trend and select fantastic-looking plants that you can also consume.
Natural Materials
Rather than plastics, choose natural materials for furnishing and decorating your outdoor space. Opt for wood, concrete, stone, brick, or metal whenever possible. It's better for the environment, and it creates a more organic space that blends with your plant life.
Whether you're looking to implement small trends or redo your back yard, we are happy to help you find everything you need to make your project successful. To order new plants, gardening tools, or landscaping supplies, visit the Kurtz Bros., Inc. website or contact us anytime. We're always happy to help!