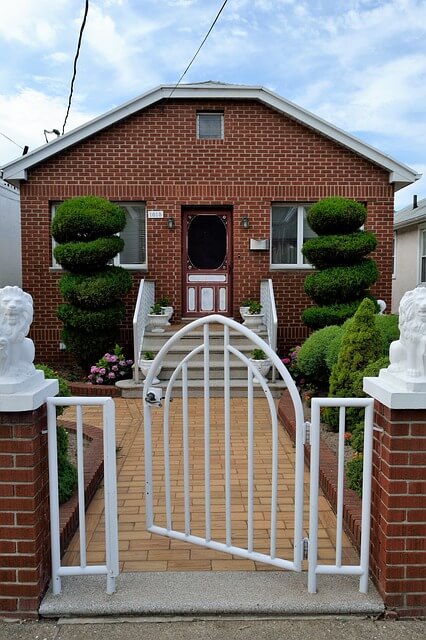 Do you have a slim strip of a front lawn? A small patch of grass? A tiny plot of weeds and gravel? No matter what size your front lawn may be, there are things you can do to make it shine. Read on for landscaping ideas for a small front lawn.
Create a Pathway
One way to improve the look of your small front yard is to add texture and layers. Begin by adding an attractive path of decorative stepping stones, leading up to your front door or steps. This type of feature adds interest and movement to the outdoor space.
For a yard that isn't directly in front of the home's entrance, consider creating a path to a different kind of destination, such as a small fountain, a bird bath, a bird feeder, or a pair of chairs.
Go Overboard with the Blooming Bushes
Masses of gorgeous blooms will add height, depth, and texture to your lawn! Think of the Nantucket cottages or English cottages that often feature bushes and plants overflowing with beautiful flowers.
Hydrangeas and roses are classic favorites that will give guests an eyeful of beauty when they approach. Your visitors will be so busy exclaiming over the flowers, they'll never notice the small size of your yard.
Design a Patio
You may not have much space, but it's all about how you use it. If you like, you can get rid of all the grass and turn the space into an outdoor living area instead!
With decorative flat stones, pavers, or gravel, create a small patio where you can place a couple of chairs and maybe a tiny table. The patio adds visual interest and usefulness to the yard; and if you live in an arid climate, you'll appreciate having less grass to tend and maintain.
Plant Small Trees
While a big oak, magnolia, or maple might dwarf the tiny front yard, a smaller type of tree could actually trick the eye into thinking the yard is larger than it is. Choose dwarf varieties of your favorite trees and plant one or two in the space you have. Trees add height, and they're visually dynamic and refreshing, so they'll automatically give your small front lawn a facelift.
Add Walls, Fences, or Hedges
A neat stacked-stone wall, a pretty picket fence, or a crisply trimmed hedge may be the perfect border for your small space. These barriers offer a sense of neatness and compact tidiness that might be just right for your small lawn space. Keep in mind that these options tend to work well for houses with a more formal look.
For additional ideas for making the most of a small front lawn, contact Kurtz Bros., Inc. We're happy to offer you advice and insight from our specialists, who have years of experience designing and maintaining beautiful landscapes. Visit our website to order the supplies and tools you need to craft the pocket-sized lawn of your dreams.