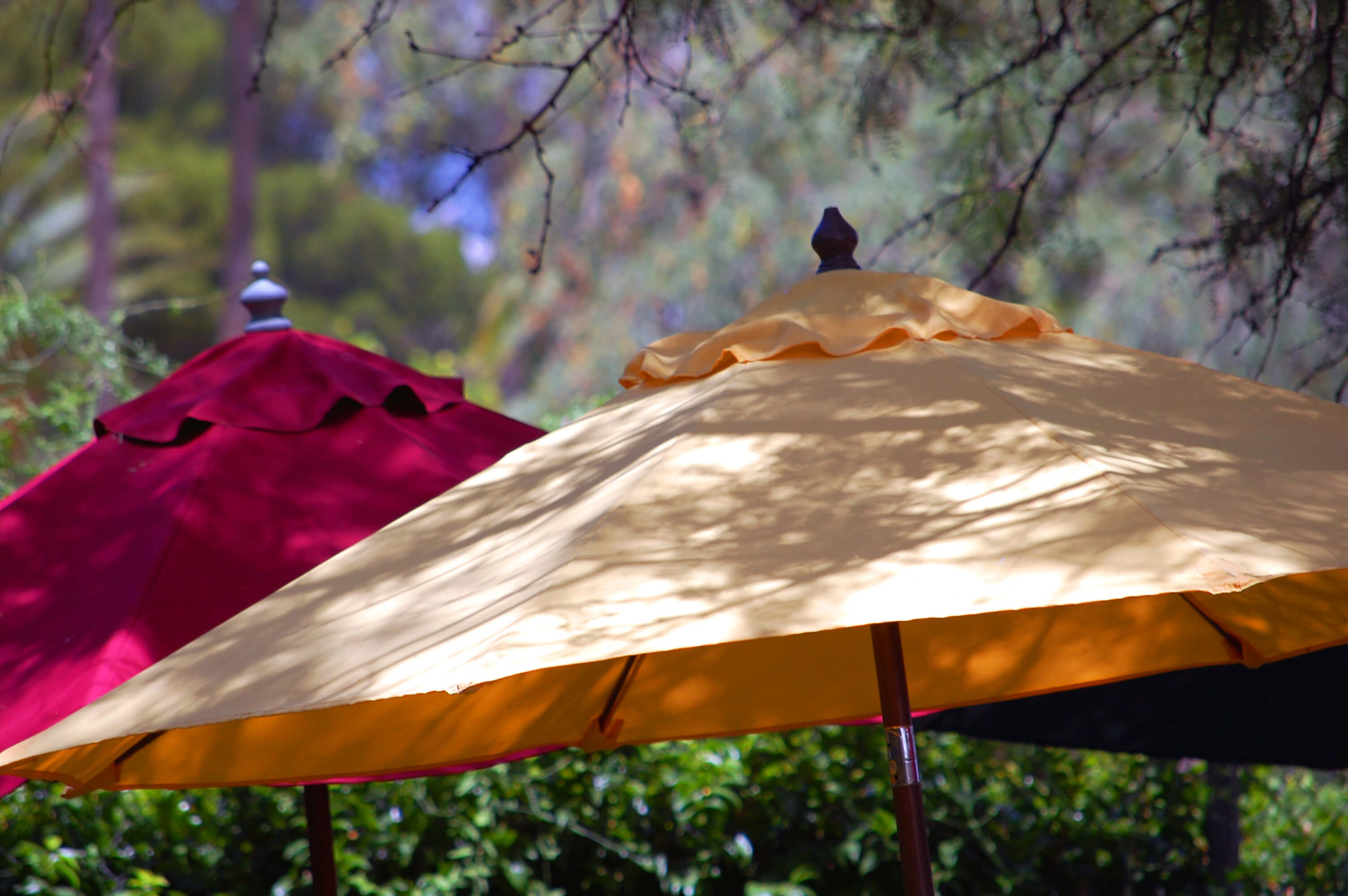 If you're looking for a great spot to enjoy the sun on a hot summer day, your porch or patio might just be the perfect place. However, there is such a thing as too much sun. If that's the case, you might be looking for a way to stay out of the direct sun when enjoying your backyard. Thankfully, there is a multitude of options for you, including quick fixes like umbrellas to more permanent solutions like a pavilion or pergola. Whatever you choose, trust the experts at Kurtz Bros., Inc. to help create the backyard of your dreams!
Utilize Patio Umbrellas
The simplest way to add a shady element to your backyard is purchasing a patio umbrella or two, depending on the size of your yard. What's great about patio umbrellas, is that they are a relatively inexpensive fix and there are many options. You can choose from size, color, pattern, and even transparency to find the perfect fit for your space. Pus, umbrellas can easily be opened and closed depending on the weather and how much sun you'd like to get. From covering just a portion of your patio to covering an expansive dining table, patio umbrellas are a great way to add shade to any backyard.
Install a Shady Pavilion
For those who don't want a quick, cheap fix, rather a long-lasting option to add shade to the backyard, a pavilion is a great choice. These are becoming more popular in backyards around the country as the freestanding structure provides a more luxurious outdoor living area. Perfect for those with an outdoor kitchen, dining area, or fireplace, a pavilion is a great way to add shade to your backyard. Though this is a more expensive option, it will enhance your backyard, the value of your home, and keep you protected from the hot sun.
Plant Trees with Heavy Foliage
The most natural and eco-friendly way to add shade to your backyard is by planting trees. While this option will take a bit more to pan out that purchasing an umbrella, trees can also enhance the natural beauty of your backyard and create a serene retreat. It's important to speak with an experienced landscaper to ensure you pick a tree with good foliage and that will grow appropriately in the space that you have in your backyard.  
Add Curtains to Your Pavilion
Another way to add shade to your backyard is by putting some curtains on your pavilion. If you already have a pavilion built, that's great! It means you already have some protection from the sun. However, that's only the case when the sun is overhead. Once the sun starts dipping, it might shine right into the pavilion. That is where a set of curtains comes into play! They can be purchased relatively inexpensively and installed by the average homeowner to avoid any added costs. Just be sure you get a material that is specially meant for the outdoors!
Add a Pergola Off Your House
Though a more permanent option, adding a pergola off of your house is a great way to add some shade to your backyard. A pergola essentially creates a freestanding garden and what's nice about a pergola is that it creates privacy while letting in as little or as much light as you'd like. If you want more shade, incorporate vines into the structure. For intermittent breaks in the sun's rays, the pergola by itself will be a great option!
Buy a Shade Sail
Another way to add shade to your backyard is a shade sail. Similar to the sail of a ship, a shade sail forms a partial canopy in your backyard. These contemporary and minimalistic shade features come in a variety of colors and sizes. That means they're perfect for any backyard. Whether you're looking to add a bit of shade over your dining table or want to shade your entire patio, you can purchase a shade sail to do the trick. What's great about these is that they're a relatively quick fix and can always be removed if you're looking to let more sun into your backyard.  
Opt for an Awning
An awning is another way to add shade to a backyard of any size. Awnings come in a variety of sizes, colors, and patterns so you can choose one that's right for your outdoor living space. Plus, there are different features like electric awnings and retractable awnings that allow you to control how much shade you want.  
Construct a Permanent Roof
Another way to add shade in your backyard is to construct a permanent roof for your patio. This is a more expensive option than most, but it can really enhance the functionality of your patio and outdoor living space. Keep in mind that you will need to hire a contractor and likely take out some building permits, but the results will be worth it!
Grow Vines or Hang Plants
Last, but not least, you can also grow vines or strategically hang planters to add some shade to your pergola, pavilion or other outdoor structure. For vines, you can simply train them along a trellis or twine strung between two posts or beams. This can help you block a bit of the sunlight, while still allowing some warmth into your backyard. For hanging plants, all you need to do is purchase some hanging baskets, quality soil, and colorful flowers to provide shade while also improving the look of your backyard.
For Your Landscaping and Plant Needs, Contact Kurtz Bros, Inc. Today!
If you are looking to add some shade into your backyard, Kurtz Bros., Inc. can help! We have the tools and equipment necessary for you to plant trees or vines, as well as install posts to construct pavilions and other structures. In addition to that, if you're looking to enhance the overall appearance of your backyard, we have everything you need! From patio pavers and landscaping supplies, Kurtz Bros., Inc. is your one-stop shop to enhance your backyard this summer. Contact us today to place your order today!