Are you planning to host an Easter egg hunt this year? Check out these ideas for preparing your yard and organizing a memorable event.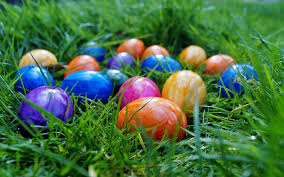 Pick Up the Debris
Do you have unsightly piles of rotting leaves, mounds of grass clippings, twigs, branches, and other debris cluttering your yard? At Kurtz Bros., we are experts at yard waste management and recycling. Call us, and we'll help you get rid of the nasty piles of yard waste and leftover mess from the long winter months. With all the clutter cleaned out of your backyard and off your lawn, you'll be better able to plan an excellent Easter egg hunt.
Fill in the Holes
The last thing you want is someone tripping or wrenching an ankle while scouring your property for Easter eggs. If there are holes or indentations in your turf that you've been meaning to fill, now is the ideal time to take care of it. Order topsoil and other fillers through Kurtz Bros., and reseed the grass over the space. Make sure that you add more dirt after the first application settles, until the ground is even again.
Divide and Conquer
Take a walk around your yard or property and scout for Easter egg hiding places. If you plan to have a hunt involving people of multiple ages, think about creating separate zones for the different age groups. You can divide the outdoor space using colorful ribbons or tape. For younger children, hide the eggs in the grass or nearer to the ground, within easy reach. Teens and adults will enjoy the challenge of grabbing eggs that are higher up or wedged into hard-to-reach spaces.
Customize the Kid Zone
You may want to remove breakable items or fragile outdoor decorations from the area of your yard where the kids will be egg-hunting. You'll also need to put away any sharp or pointy gardening implements, as well as rakes and spades. Does your property include wooded areas or thickets? Check for any thorns or poison ivy that may have sprung up during the early spring. If you don't have a fence around your property, appoint an adult or two to monitor the boundaries of the kids' egg hunt area. That way, no one will wander too far in search of eggs.
Above all, make sure that you have plenty of Easter eggs on hand, whether they are plastic ones filled with candy or real ones that you painted yourself. Happy egg hunting!