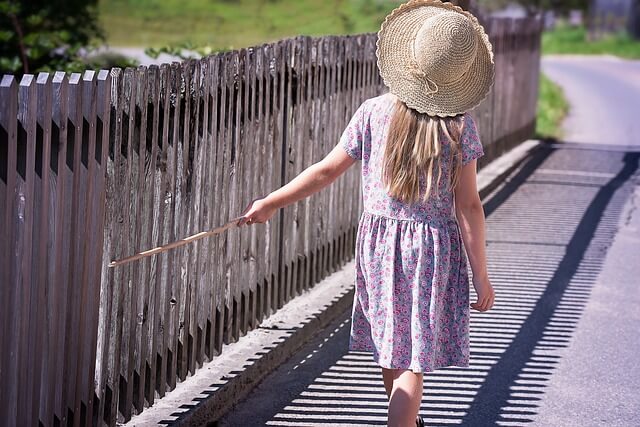 If you want additional security and privacy for your outdoor space, adding a fence could be the perfect solution. The right fence will complement the overall look of your yard, while meeting your family's needs. Discover various fence styles and find out how to choose fences to match your backyard aesthetic.
Picket Fence
A traditional style, the picket fence works well for corralling
pets and small children. Its tall, pointed boards are often white-washed,
though you can choose any color you like.
If you're going for a classic look for your home and
backyard, the picket fence could be the perfect choice. It lends itself well to
a neat, tidy aesthetic, including a pleasant outdoor space with neatly trimmed grass
and a carefully maintained flowerbed or two.
While it doesn't offer much privacy, the picket fence enables
a limited view of what's beyond it, and it is typically low enough for you to
chat with your neighbor across the top.
Convex Fence
Very similar to a picket fence, a convex fence has panels
spaced a little way apart. However, instead of the typical pointed peaks, it
features gentle arching curves along the top edge, like waves undulating around
the yard.
The convex fence offers a more fanciful and fun alternative
to the classic picket fence. For a relaxed outdoor area, this style supplies
just enough security and partial privacy while maintaining a sense of community
and neighborliness.
Lattice Fence
The lattice fence works well for yards with a slightly
wilder, English-garden type of aesthetic. The crisscross structure allows
breezes to pass through while confining pets and animals.
Depending on the design, the lattice fence may offer more
privacy than the picket fence. Some designs incorporate a solid lower panel
with a latticed section along the top.
Split-Rail Fence
If you're a fan of the rustic look, try a split-rail fence.
These basic fences feature unfinished, rough beams, pushed through holes cut in
upright posts. This kind of fence won't block the neighbor's view or keep your
pet in the yard, but it will delineate the margins of your property and provide
some aesthetic interest.
Steel Fence
A basic steel fence is the perfect complement to a more
formal yard. Its height, durability, and balanced lines lend elegance and
gravitas to a space. Use the steel fence to contrast bountiful flowerbeds, to
enclose a crisp, neat yard, or to encircle a garden area that needs plenty of
sun.
Steel fences also provide security, since the bars are
placed close enough together that the average person cannot squeeze between
them. They are typically high, with a gated access point; so if safety is a
concern for you, consider this multi-functional, aesthetically pleasing option.
Solid Wood Fence
Also called a "stockade fence," the solid wood
fence is made of tall, wide boards set right against each other, so that no one
can see through. The top edge may be either blunted or pointed.
This kind of fence is ideal for families that value privacy.
You could use it to enclose a backyard that features a pool, a children's play
area, or a private outdoor entertainment space.
Keep in mind that the stockade fence, while a more secure
and private style, also limits some of the sunshine and breezes from reaching
your yard at certain times of the day.
As you're preparing to fence in your yard, remember to consult with
Kurtz Bros., Inc. about planning, landscaping,
and ordering supplies. We're happy to support you through each step of the
fencing process.