Regular mulch is made from organic materials like tree bark and yard waste. Some benefits of regular mulch are that it stops weed growth and controls the rate of water loss. Meanwhile, playground mulch is ground-up natural wood from a sawmill. This type of mulch is great for walking paths and child amusement areas. Kurtz Bros., Inc. offers both regular and playground mulch, so let's look at the advantages and disadvantages of each.
The Features of Regular Mulch
Standard mulch is best used for yards, gardens, and lawns. Gardeners use bark mulch to absorb heat up to 130 degrees throughout the summer. The natural heat source helps keep the mulch and vegetation free from plant pathogens, weed seeds, and harmful pests. The texture of mulch also makes a huge impact on what sets these two mulches apart. Consider the following attributes of standard mulch:
Regular mulch is softer with a more shredded texture
It ensures effective weed control
It helps enhance soil fertility
Standard mulch degenerates into soil nutrients.
Playground Mulch Attributes
Playground mulch is a safe alternative to regular mulch because it reduces the need to mulch annually. This is because it is heavy enough to resist erosion by the elements. Playground mulch is different from regular mulch because it does not release organic material into the soil. Playground mulch does not easily run off and can survive harsh weather conditions.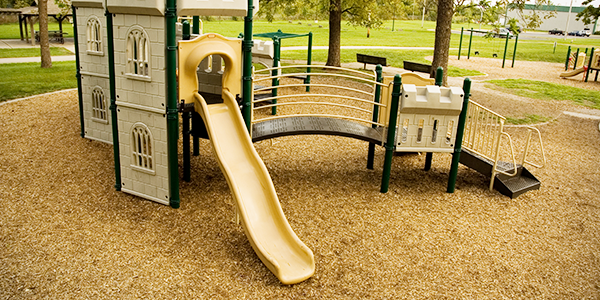 Differences Between Regular and Playground Mulch
Playground mulch is more flammable than regular mulch. Studies have also found that crumb rubber can emit gases that can be inhaled. When the material gets hot, it can increase the chances that volatile organic compounds and those chemicals can leach into the air. Meanwhile, fungal spores and wood dust from regular mulch are health risks to humans. Hazards of mycotoxins and mycotoxigenic fungi have been well documented and wood dust has been long established as a carcinogen. Another aspect of toxicity in mulch is if the soil has been treated with pesticides or not. Here at Krutz Bros., Inc, the only change we make to our mulch is an eco-friendly dye, to tint the color for a beautiful look.
Shop Now or Contact Us
When it comes to mulch, trust the professionals at Kurz Bros., Inc. We are experts in high-quality mulch and are known for our specialties in lawn care. Check out all of our different mulches to find the best option for you. If you have any questions, comments, or concerns, please contact us. We are happy to help you beautify your landscape!