When it comes to landscaping, finding the perfect materials to enhance your outdoor space can make a significant difference. While many homeowners gravitate towards traditional options like grass or pavers, there's a versatile and visually appealing option that often goes overlooked: pea gravel. Utilizing Kurtz Bro's pea gravel of different colors and sizes, here are five unique landscaping ideas to spruce up your yard:
#1 Tranquil Pathways
Pea gravel makes an excellent choice for pathways due to its natural texture and smoothness underfoot. It not only adds functionality, but it also adds an element of charm to an overall landscape design. Whether the path leads to your front door or even a garden— Kurtz Bros recommends installing a meandering pathway using pea gravel, bordered by attractive stone or brick edging to further impact the visual details.
#2 Zen Garden
Incorporating a Zen garden in your yard can provide a tranquil space ideal for relaxation and meditation. Utilizing pea gravel as a base for a Zen garden is an excellent choice as its soft texture mimics the feel of traditional Japanese gravel gardens, while still adding visual appeal to a space. Kurtz Bros' diverse selection of landscaping needs offers gravel in various shades of grey, allowing you to create a soothing and aesthetically pleasing environment fit to your personal style and preference.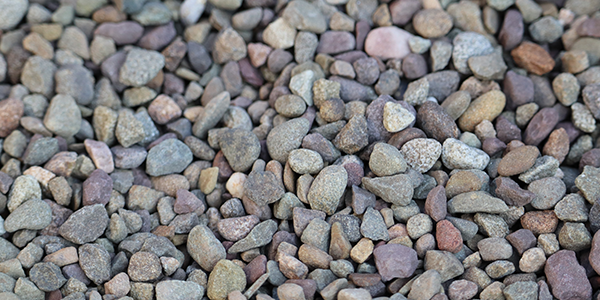 #3 Decorative Landscaping
Enhancing your landscape with decorative elements is another fantastic way to add character and visual interest to a space. Using pea gravel, specifically, as a decorative ground cover around trees, shrubs, or flower beds, provides a clean, uniform appearance that withstands differing weather conditions — compared to the standard ground cover of mulch. To cater toward your specific landscaping needs, Kurtz Bros offers gravel in different sizes, allowing you to choose from a variety of options.
#4 Fire Pit Area
A new popular trend in modern landscaping is creating a cozy outdoor gathering space for friends, family, and other guests. A fire pit area, for example, can serve as the perfect focal point for entertaining guests or enjoying evenings under the stars. With pea gravel surrounding the fire pit, you'll not only provide a safe and stable surface but also add a touch of elegance to the area. Kurtz Bros even offers gravel options that are heat-resistant, ensuring your fire pit area remains both functional and visually appealing.
#5 Play Areas
Finally, for families with children, designing a dedicated play area is essential. Instead of using mulch or a rubber surface for the play site, pea gravel serves as an excellent alternative due to its drainage properties as well as its natural, soft landing texture suitable for peak child play. Kurtz Bros, Inc. even offers gravel options that are safe for children and pets, making it an ideal choice for play areas.
With the implementation of pea gravel in your yard and outdoor spaces, your property is bound to be an aesthetically pleasing space to be enjoyed by guests and the whole family. Whether you're aiming for a serene garden or a functional outdoor space, consider incorporating pea gravel into your landscape design to achieve a visually appealing and practical result. Kurtz Bros stands out as a reliable provider of high-quality pea gravel due to its a diverse selection to suit various landscaping needs, so contact us today to learn about how we can make your landscaping dreams a reality.