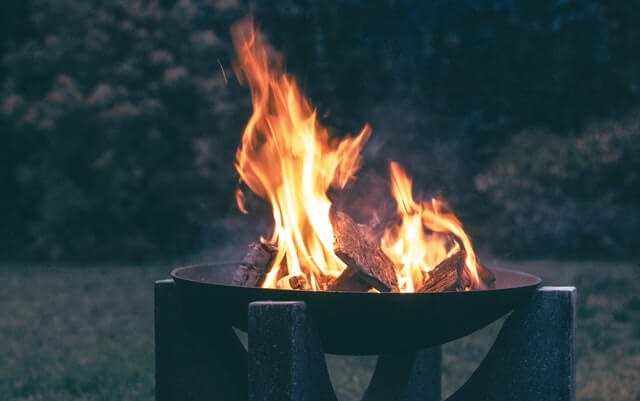 When you've spent your summer enjoying the warmth of the sun and the beauty of your outdoor space, you're reluctant to give up that al fresco fun in the fall. Autumn brings along much chillier weather, and those brisk breezes can sap the warmth right out of you. Fortunately, technology makes it possible to bring your patio or deck back to a bearable temperature. Get the scoop on practical outdoor heating so you can enjoy your backyard in the fall.
Fuel Types for Practical Outdoor Heating
Outdoor heaters use four different kinds of fuel, depending on their design. Select the one that works best for your lifestyle.
Natural Gas
A heater like this needs to be put in by a professional, because it hooks up to your home's gas line. Natural gas heaters are pricey to purchase and install, but once they're in, they're inexpensive to run. Make sure you place the heater exactly where you want it, since it will be difficult to move.
Electricity
Many of the outdoor heaters you'll find on the market will be powered by electricity. It's a simple plug-and-go option, but be prepared to have a higher electric bill. These types of heaters may take a little longer to heat up; but they are safe to use in covered areas, which makes them appealing to many homeowners.
Wood
A fire pit, chiminea, or standard outdoor fireplace uses firewood to produce flames and heat. You can order third cords or full cords of firewood from Kurtz Bros., Inc. at a good price to keep your outdoor space warm. Keep in mind that you'll need to maintain and clean the wood-burning stove, pit, or fireplace to ensure that it heats effectively.
Propane
Propane heaters, unlike natural gas varieties, don't need professional installation. However, they aren't safe to use in enclosed or covered areas. You can move them around to locations where you need the heat. Since you'll need to swap out the gas tank periodically, this type of heater can be costly if you use it often.
Styles for Practical Outdoor Heating
Outdoor heating units come in a variety of designs. Floor-standing units are some of the most popular; they look similar to a tall lamp and they put out plenty of heat.
What if you have a small patio and you'd rather keep your floor space open? Or maybe you have pets and small kids who might knock over a tall floor-standing unit? In that case, check out the hanging heaters and wall-mounted heaters.
A small tabletop heater can put out a decent amount of heat as well, although it won't heat a large space. This design can be either gas or electric, and often looks like a small lamp.
Fire pits, chimineas, and other fire features are probably the most attractive outdoor heating options. There's nothing quite like the warmth and ambiance that a crackling fire can provide. If you choose to go with a wood-burning outdoor feature, order your firewood from Kurtz Bros., and we'll deliver it right to you so you can keep enjoying your backyard in the fall.