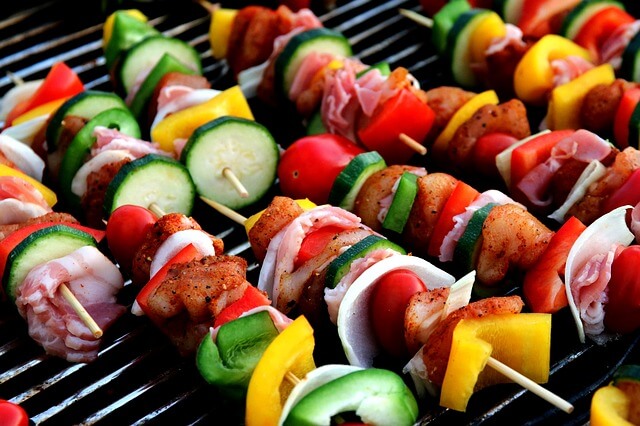 It's fairly easy to entertain friends outdoors when the sun is shining and the air is warm. However, when the temperature drops and the wind chill factor increases, cooking and entertaining outdoors often becomes more challenging. Discover how to manage outdoor cooking and entertaining spaces in the fall, so you can continue to enjoy an al fresco lifestyle even after the summer is over.
Provide ways to warm up.
A fire pit, a brick oven, or an outdoor fireplace provides a novelty cooking space and yields some extra heat to keep the autumn chill at bay. Have a professional install one for you, or DIY a fire pit with some Quikrete, sand, stones, and other supplies.
If your fire feature isn't doing the trick to keep guests warm, add an outdoor space heater. You can also set out a basket of colorful throws and blankets so people can wrap themselves up against the brisk air.
Keep a broom handy.
Those autumn breezes are going to toss plenty of leaves and twigs around your yard, and many of them will end up on your deck or patio. Have a broom readily accessible so you can give the outdoor cooking and entertaining space a quick sweep before guests arrive.
Create a shelter.
Do you have a cover or roof for your outdoor entertainment space? If not, consider adding some sort of shelter. In the fall, a little extra cover offers protection from rain and allows you to use the space in most kinds of weather. You can purchase a pop-up patio canopy or portable gazebo to use during the fall, hire a professional to build one, or do the work yourself.
Check local building codes first to see if you can construct the roof using supports placed directly on the existing patio slab, or if you need to make new footings. If you're creating cover for a deck, be sure to bolt the posts to the deck beams or joists for best structural stability. HomeTips.com recommends using "heavy-duty galvanized lag screws that are long enough to penetrate the deck's framing by at least 2 inches."
Invest in pest control.
Bugs buzzing around your food or trying to munch on your guests can really damage the ambiance of an outdoor party. The scent of citronella drives away mosquitoes; so if those insects plague your outdoor gatherings, invest in citronella plants or other plants that work well for insect control.
If flies are pestering your guests and landing near the food, place a bowl or jar of sugar water some distance away from your entertainment space. Some of the flies will move toward this sugary snack, leaving your guests undisturbed.
Good news— as the weather gets colder, insects will be slower, less apt to intrude on your al fresco dining experience.
Include attractive trees and plants for fall.
If you've filled your backyard with trees and shrubs that look only good during the spring and summer, your fall entertainment space may look rather drab. Select some bushes and trees that keep their looks throughout all seasons, and choose a few that are known for their fall colors.
Evergreens like holly, spruce, Sprinter boxwood, flowering quince, and Celtic Pride Siberian cypress are perfect for year-round gorgeousness. Birches, maples, oaks, blackgum or black tupelo, dogwood, and serviceberry all look beautiful during the fall, enriching your backyard with brilliant color.
With some natural color, pest control, shelter, and warmth, your outdoor space can stay functional and fun throughout autumn. Contact Kurtz Bros. or visit us online to source all your supplies for lawn care and backyard maintenance this fall.