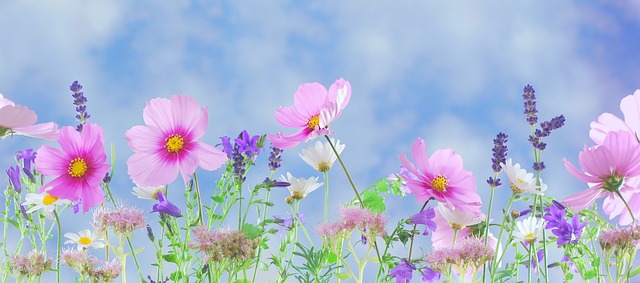 If you've got no time to spend watering, working, and babying the flowers in your garden or front lawn beds, we have options for you! Check out some of these gorgeous blooming plants that require minimal effort on your part. Our list of easy-care lawn flowers allows you to enjoy the color and beauty without having to put in too much time.
Sunflowers
Sunflowers are great if you have kids—the seeds are large
and easy to handle, the plants grow quickly, and the blooms are big and showy.
You and your kids will have fun watching the stems push higher and higher. In fact, some kinds of sunflowers can surpass
14 feet!
Sunflowers like a bit of shelter, but as their name
suggests, they also enjoy ample sunlight. If you want the stems to grow
extra-tall, offer a support spike or framework for each plant. You'll find that
birds and butterflies are attracted to these bright flowers.
Geraniums
Geraniums enjoy partially shaded areas, and they do best in
soil that is already fertile. If you've enriched your garden's soil
with compost
or added fresh soil to the area, plant some geraniums and watch them flourish.
Since they are self-seeding, they'll expand to cover the space in no time.
Perfect as pretty ground cover, geraniums require no weeding
and little watering. You can even grow them from bare roots! To encourage a
longer blooming period, trim the geraniums right after the first batch of
flowers.
Nasturtiums
These flowers bear vividly colored blooms, but they don't
need much maintenance. Offer them plenty of sun and a well-drained spot in your
garden, and they'll do the rest, even if the soil is poor.
Did you know that the flowers of nasturtium plants are edible?
They have a peppery flavor and pair well with garden salads.
California Poppies
California poppies are technically called Eschscholzia. They
survive even when the soil is barren, dry, and lacking nutrients. If you've got
a problem spot in your garden or yard, try filling it in with some California
poppies.
The poppies do need plenty of sun, and it's best if the soil
is well-drained. Otherwise, you won't have to water them or bother with them
much at all! They even grow well in rock
gardens.
Pansies
You've probably seen pansies in plenty in the flowerbeds of
commercial properties. That's because in addition to being pretty, they don't
need much TLC to thrive. They'll often continue blooming well into the cold
season; all they need is some sun and moisture.
Plant pansies in partial shade or full sun, and add some rich
soil to encourage beautiful blooms. All you need to do is watch for seed heads
and clip those off as they form. Otherwise, let the pansies alone and they'll
color your outdoor space!
For additional advice on landscaping,
or to order the spring supplies you need, visit the Kurtz Bros., Inc. website. You can also
contact us anytime, and our lawn care experts will be glad to answer your
questions.