Sand is a material we often don't associate with gardens. But it is an incredibly affordable option to enhance a yard that provides excellent drainage and complements your landscape. Learn some fun and practical uses for sand in the garden including sandboxes, xeriscaping, and more.
Create a Garden Sandbox
We all have childhood memories of playing inside sandboxes and creating an array of castles and figures. You can easily create your sandbox for your kids to enjoy with some simple materials. You just need some wood, sand, and some basic tools.
First, look for an area in your yard that is flat and preferably under some shade to protect your little ones from UV rays. Next, map out your shape with stakes and proceed to assemble your sandbox by cutting the lumber and drilling the pieces together to create a box that is affixed to the ground. Then, purchase the right amount of sand for your new sandbox using our cubic yard calculator. Additionally, you want to also have a tarp on hand to cover the sandbox to protect it from rain, sun, and animals.
Xeriscape with Sand
Xeriscaping is a type of drought-resistant landscaping that often includes boulders and rocks to direct water to areas that need it most and improve drainage. Sand is an excellent material for xeriscaping since it encourages drainage. Treat sand like you would mulch and scatter it around your drought-resistant plants. It works well with succulents, cacti, lavender, olive trees, and some shrubs. You can also add some interest in texture, height, and color by adding some gravel and boulders to the area.
Line and Stabilize Your Pavers
Pavers can easily make your space look more cleaned and defined. When installing pavers, you can stabilize them with sand. The sand can be mixed with an additive that is then poured between the pavers. Doing this will effectively bind the pavers together and keep them in place. By preventing the pavers from shifting, you are also reducing the chances of them breaking.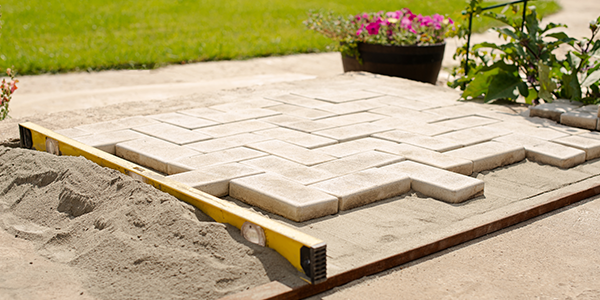 Create a Zen Garden with Sand
The concept of Zen gardens originated in Japan and has slowly been adopted in Western lawns. Zen gardens are typically created with shrubs, boulders, sand, and gravel. To create a Zen garden, remove all the grass and weeds from the area. An easy and organic way to accomplish this is by adding layers of cardboard over the grass and spraying the area down with water. The combination will stifle any lawn and weeds effectively without the use of herbicides.
You will also want to design the area to carefully place boulders, shrubs, and acquire enough sand to rake it in. It should be a few inches in depth and to avoid weeds in the future, consider adding landscaping fabric as a base layer. Additionally, you can add lighting, seating, and ponds, or water fountains to enhance the calming atmosphere. Just keep in mind that the tradition is most often found in historic Japanese temples, so be mindful and respectful of this when designing your garden.
Buy Sand Now
If you are looking for high-quality sand, or want to take on a fun landscaping project, we would be happy to assist you. Visit Kurtz Bros., Inc. to order sand now, or contact us to learn more!