If you're all about gardening and decor, you might have been keeping up with the trends that follow—monstera plants, succulents, and of course, cottagecore. But what does cottagecore decor look like, and what is this concept in the first place? Allow us to illustrate.
Picture yourself tucked away outside a vintage cottage in the English countryside. You're sipping on an afternoon Earl Gray tea and the lush garden around you is overflowing with a waterfall of green. Flowers bloom all around, and the gentle scent of fresh herbs tickles your nose.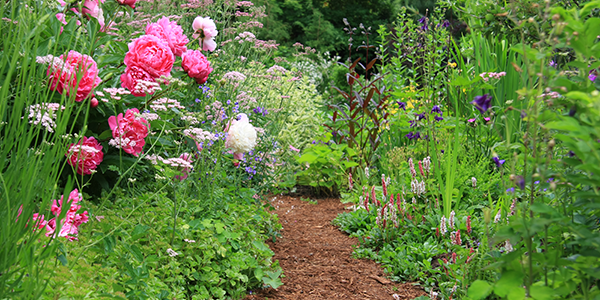 This is cottagecore, and it's taking gardens all over the country by storm—or rather, by gentle, pleasant breeze. Learn how to turn your backyard into the cottagecore garden you never knew you needed with these cottagecore garden decor ideas.
#1 Plant a Variety of Flowers
You can't have a true cottagecore garden without plenty of floral accents. Give yours a charming countryside feel with an array of colorful flowers.
From climbing red roses to pink peonies, plant them in every nook and cranny of available space. Before long, your garden will take on an entirely new persona. What was once a backyard with a few strategically placed lilies can become a gushing garden oasis, waiting to be explored.
If you're unsure which flowers to add, consider a combination of annuals and perennials. Annuals can give you an instant pop of color for the season, while perennials may rebloom for you each year and might not need to be replaced as often.
Some popular (and colorful) choices for cottage gardens include:
Foxglove

Pansies

Hollyhocks

Dianthus

Lady's Mantle

Lavender
#2 Include Edible Plants
Add a touch of practicality and sustainable living to your garden with some plants you can use in the kitchen. By doing so, you can also enjoy the fresh scent of herbs wafting in the breeze (and in your next loaf of freshly baked herb-infused bread).
There are plenty of edible plants to add to your garden, though some may grow more easily depending on where you live. Here are a few general suggestions:[1]
Herbs

– Thyme, rosemary, basil, and lemongrass

Fruits

– strawberries, blueberries, and blackberries

Vegetables

– Lettuce, onions, tomatoes, and peppers
Before long, you'll be ready to harvest your own home-grown swiss chard and blackberries for your next fresh-from-the-garden salad.
#3 Repurpose Your Unused Furniture
Sustainable and stylish, you can repurpose some of your beloved used furniture to bring a touch of vintage elegance to your garden. If you've got dining chairs collecting dust in your garage or an old rickety ladder with a crack in one of the rungs, take them out of storage and put on your crafting hat.
Paint those dining chairs a cozy eggshell white or robin's-egg blue and use them in a garden seating area. Then, use that wooden ladder as a creative replacement for a pergola or trellis that can help some of your newest green additions grow.
Here are some other ideas for repurposing some of your shabby-chic household items:
Re-cover old seat cushions with a unique bold pattern on each chair.
Convert a wooden pallet into an eclectic outdoor coffee table. Brush on a bright shade for added panache.
Turn an old dresser into a magical home for your newest horticultural designs. Paint each drawer a bold new color or simply stain the wood for a natural aesthetic.
#4 Add a Pathway
A whimsical pathway can provide an aesthetic way to explore your garden and enjoy the fruits of your labor. Choose from a variety of relaxed materials to form the path, such as:
Soften the edges of your pathway with edging plants, such as lavender or thyme. These can further embellish the winding path and offer a sweet-smelling scent as you appreciate all of your hard (and beautiful) work.
Create Your Perfect Cottagecore Garden with Kurtz Bros., Inc.
When it comes to cottagecore gardens, we say "The more the merrier"—more lush plants, more brightly-hued flowers, and more herbs to enjoy.

Whether you're interested in taking a page from the cottagecore lookbook or are simply interested in giving your garden an upgrade, Kurtz Bros., Inc. offers a wide selection of landscaping materials to help make your dreams a reality.
From compost packed with nutrients that can help your flowers blossom with joy to stones that complement all of your landscaping needs, your picturesque garden is only a click away.

Contact Us